I put down my pencil and shut my laptop. The moment that I'm writing this, I just finished my first ten portraits of the #100headschallenge. You might have come across this challenge the past few weeks. Drawing challenges are a popular trend that float around the internet, especially on Instagram. They're not just fun to look at – each artist making its own unique version – but also to experience yourself!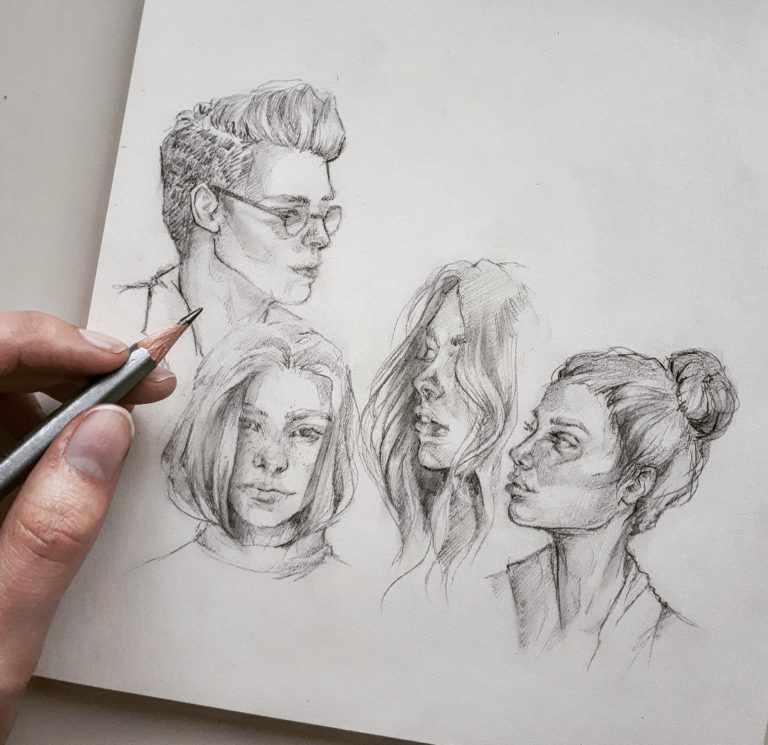 De #100headschallenge / #meds100heads tag
But what exactly is this challenge? The challenge, started by Ahmed Aldori, is exactly what you think it is. The purpose of this challenge is to draw 100 heads / portraits. Officially, the idea is to draw 100 portraits in 10 days; thus 10 each day. Click the link below to view the complete Youtube instruction video: https://www.youtube.com/watch?v=0A_kQsxeeTE
I just started with the challenge myself, and I've already noticed it can be pretty hard! Especially with all the hustle and bustle during the week. Therefore, many artists (like me) choose to take more time to finish these 100 portraits. For instance, you can choose to draw 5 portraits each days, extending the challenge to 20 days.
The aim of this challenge is to improve in within a short timeframe. Now, a single portrait probably takes up quite some time. Normally it takes me up to 10 hours (depending on the style and size) to completely finish a detailed portrait. During this challenge you will be less fixated on the small details, but focus more on quickly structuring the face. This way you can learn and improve drawing facial proportions.
Remember: not every portrait needs to be a masterpiece! Below you can view a few examples from the #100headchallege. You also browse the instagram hashtag for more examples!
Drawn by @Cesarhan (instagram)

Drawn by @Paperihattu (instagram)

Drawn by @vastro72 (instagram)
Finish the challenge with a smile
The key is to keep this challenge fun and lighthearted. Here some tips to keep things easy and ideas to add variety to your artworks:
1. INSPIRATION-BOARDS
This first tip is not only useful to this drawing challenge, but also for creating other artwork. If you like using a reference photos, for inspiration or practice, building an Inspiration board can come in handy! You can create your own on Pinterest, but also browse and follow existing boards. Here are a few that I really like: Polina Bright, Rosalie Krijl, Zwart-wit portretten, Portret-fotografie. Or.. if you're curious to see my own board: click here.

Nowadays you can also easily ''save'' photos in the Instagram app itself. To save a picture, click on the ''ribbon'' icon displayed below the picture on the right side. You can find your saved photos on your profile under 'saved'. Here you can also create your own folders, to easily organize the stuff you find! Disclaimer: before you use portrait photos it can be wise to contact the photographer, to ask if it's okay to use their content. These pictures are copyrighted.
Find your saved images under "saved" via profile settings

You can create folders to organize saved photos
2. DIFFERENT STYLES
This challenge is the perfect time to try out as many styles as possible! Try different ways of shading. If your style is ''realistic'' with perfectly blended shadows, try drawing only using the cross-hatching technique. Here some other styles that you need to try: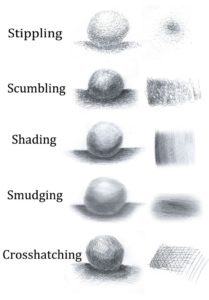 You could also use different art materials. Create a set of 10 portraits only using charcoal, watercolor paint or in colored pencil.  
To change up your art even more you can try to vary with sizing and amount of detailing. Draw a few large portraits with lots of details, but also create the tiniest portrait possible!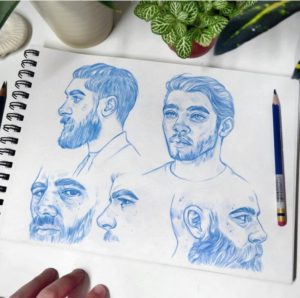 3. CHARACTERS
Think of your favourite show to binge-watch on Netflix. Maybe it's fun to create a set of drawings of your favourite characters from that show. They don't have to be 100% human ;).
If you often draw using references, it could be cool to try drawing a few portraits from your imagination. Draw a posh lady with a boa and shiny earrings, or a man with a bushy moustache. Go wild! If you need inspiration, you can also look at a reference picture for a few seconds and then draw from your mind.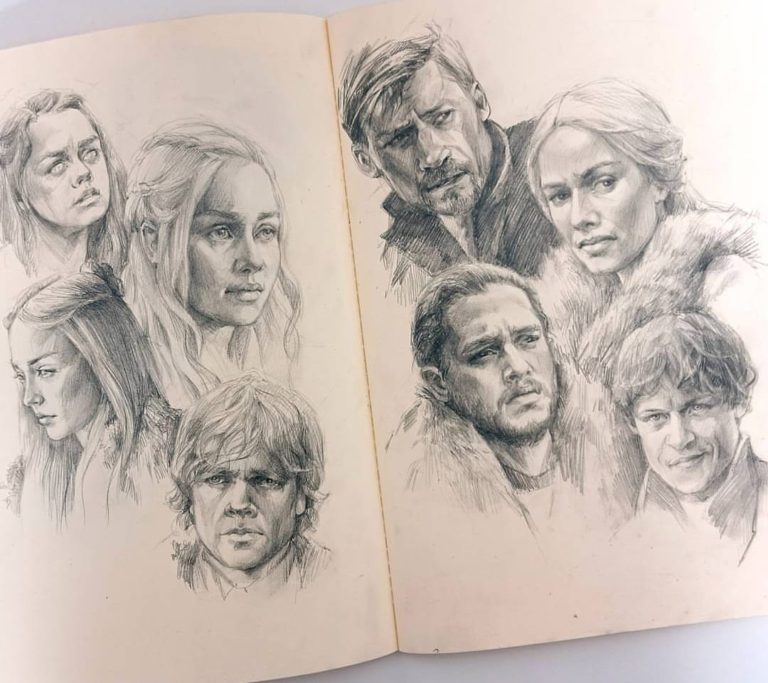 For those who dare to try this challenge.. good luck! I am going to do my best to finish the challenge myself. By the way, don't forget to have fun!
Love,
Annelies