Three years ago, I wrote a couple of reviews about different colored pencils. For example, I wrote a review about Prismacolor Premier pencils and about Faber Castell Polychromos pencils. But when you start out with coloring, you can get crazy because of all the different kinds and brands (no wonder I spent a fortune on drawing materials, I wanted to try everything: I'll save you that!)
Here's your guide to the colored pencil that fits you!
Prismacolor Premier pencils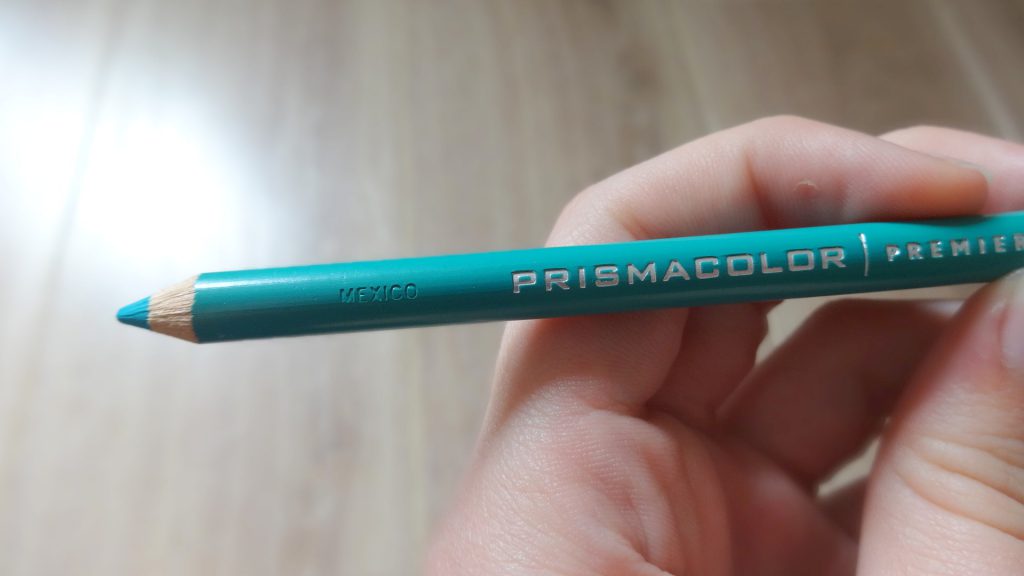 I'd like to start with the most hyped colored pencil out there: the Prismacolor Premier pencils. Three years ago I wrote a whole blog about it. The Prismacolors are famous for their easy blending, which matches my experience with them too. When you're not very experienced with working in color, and you're having a hard time with blending and building up color, this is a great choice. The pencils are on wax basis, which is why they blend easily. However, the wax basis has a con too: After two or three layers of color, you can't build new layers on top of it. There's a wax bloom on your drawing which won't pick up any color anymore. When you don't work with a lot of layers, this is not a problem. But when you work with a lot of details and you really want to add in lots of layers, it's probably better to choose a different pencil. Also, the Prismacolors are not erasable because of their wax basis.
Apart from the earlier stated con, the Prismacolor wooden housing isn't as good as it's competitors. From my own experience I can say that Prismacolor pencils break a lot. You have to be extremely careful with these pencils if you want them to last for a while. Are you as clumsy as I am? Then it's better to go for a different pencil.
The Prismacolors are available at Amazon.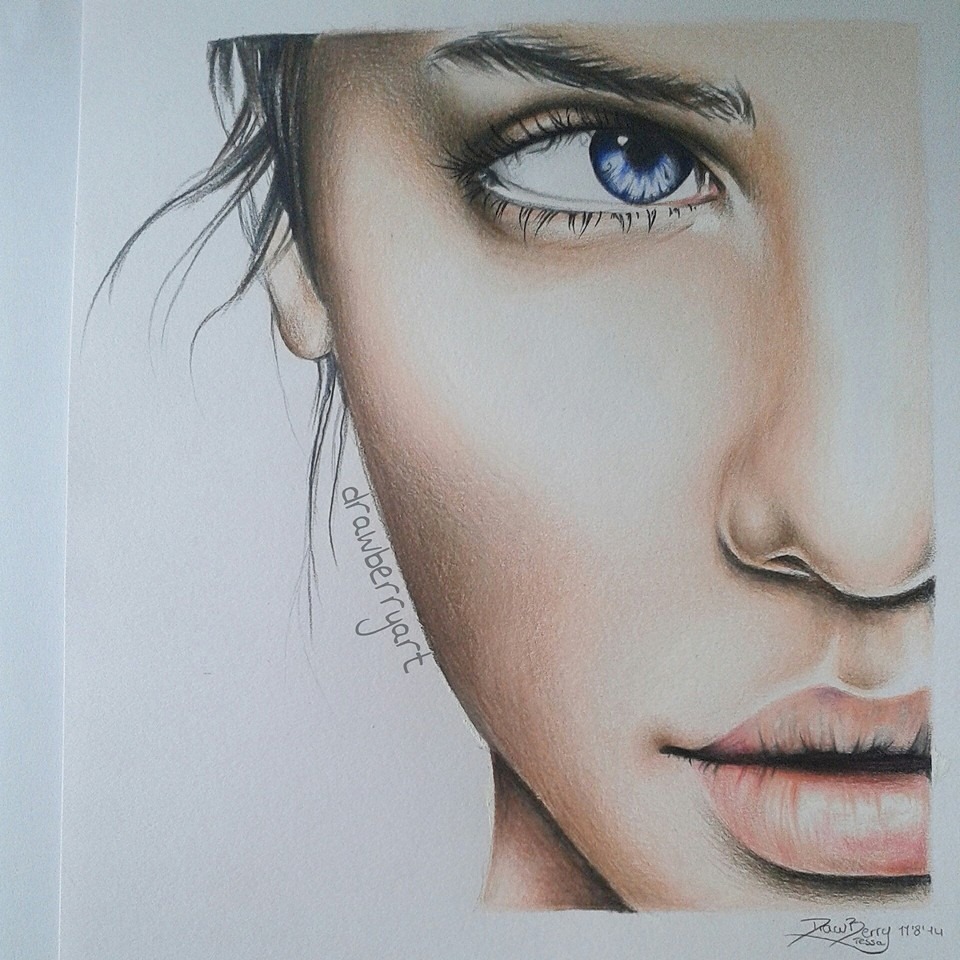 I drew the drawing above with these pencils. As you can see at the shadow of the cheek, I wasn't that good at blending at the time. The wax basis did a pretty good job at helping me out!
Pro's Prismacolor Premier pencils:
Ideal for when you're starting out drawing in color, because they blend easily
Cons Prismacolor Premier pencils:
Because of the wax bloom you can only build up 2 or 3 layers

The pencils break easily

Because of the fragile lead, you can't sharpen them really sharp

They're not erasable

They're not for sale in all countries
Faber Castell Polychromos pencils
After the Prismacolors I bought the Faber Castell Polychromos. I heard many good stories about these pencils, among others by Lisa L'Achri. She made a comparison video between the Prismacolors and Polychromos, you can find the video here.
The Polychromos are oil-based, you definitely notice this difference! Where with the Prismacolors there is a layer of wax after 2-3 layers of colour pencil, you do not have this with pencils on oil base. With the Faber Castell pencils, you can continue to build up layers a lot longer. Unfortunately, this makes the Faber Castell Polychromos a lot more difficult to blend, which will cost a little more time. Unlike the Prismacolor, pencils the Polychromos are erasable.
Another advantage: Because the pencils are oil-based, they (almost) never break. So they are a lot more economical.
The Faber Castell Polychromos are available worldwide.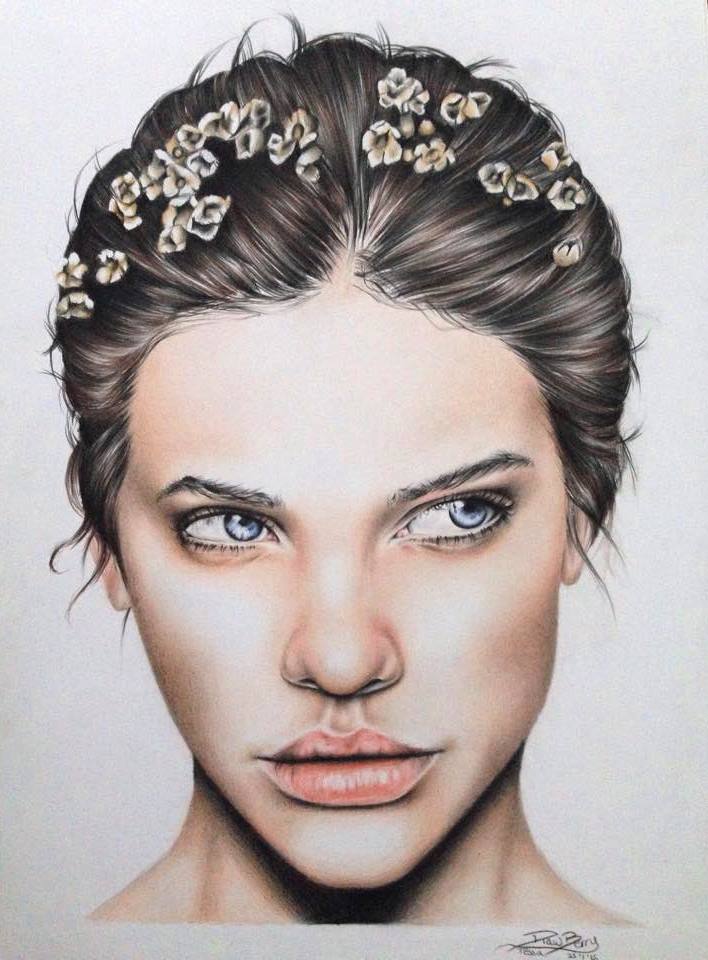 The above drawing is made with these pencils, you can see the drawing is colored less roughly. By this I mean that the texture of the skin is colored very smoothly, you don't see the pencil lines anymore.
Pro's Faber Castell Polychromos:
They are economical in use because of the oil base

Good for details: able to sharpen really smart

They are available worldwide

Erasable

Cons Faber Castell Polychromos:
Blending is more difficult because of the oil base

Not as suitable for beginners
Caran D'Ache Luminance Pencils

Although the Caran D'Ache Luminance pencils are slightly less famous than the previous two brands, but certainly no less interesting! The Luminance pencils are my personal favorite.
The Luminance pencils are like the Prismacolors on wax basis, but they don't work the same way. Where the Prismacolor pencils quickly create a layer of wax on top of your drawing, that's not the case with Luminance. They share characteristics of both the Polychromos and Prismacolors. Because of their wax basis, the pencils blend easily again, so this is a great pencil for the beginner. The Luminance pencils are easily to sharpen and don't break fast, nice! They do not break quickly because the ' casing ' of a Luminance pencil is a lot thicker/harder than that of a Prismacolor or Polychromos pencil. Like the Polychromos, the Luminance pencils are also erasable, but not as easy as compared to the Polychromos.
Are there any drawbacks to these pencils? Yes! The pencils are more expensive than the other two.. For a single pencil of Luminance you pay on average a euro more than the Polychromos. The pencils are available worldwide.
Pro's Caran D'Ache Luminance Pencils:
Blend easily

Easy to sharpen really sharp, economical in use

Available worldwide
Cons Caran D'Ache Luminance Pencils
More difficult to erase

Pricey
Unfortunately I can't discuss all kinds of pencils in this article. I hope this blog post helped you with the search for your ideal colour pencil. Do you have questions about a certain kind of pencil Ask in comments and maybe I can help you with choosing your perfect colour pencil.
Love,
Tessa