Every creative person will experience a time when there is no inspiration to be found and nothing seems interesting. This is often referred to as an 'art block'. One person believes in it, the other sees it as an excuse to stop creating art.If you take a look around you on the internet, you will soon come across a definition. An art or artist's block is: " A state that usually consists of a visual art hobby or a job in which the artist loses the ability to produce new work ". Even Leonardo Da Vinci and various musicians seem to have suffered from it.
There may be different reasons for an " art block ". The best known examples are: having no inspiration, no motivation, extreme fatigue and hand coordination problems. Many different factors can be the cause of the same problem alone or together: the inability to produce new work!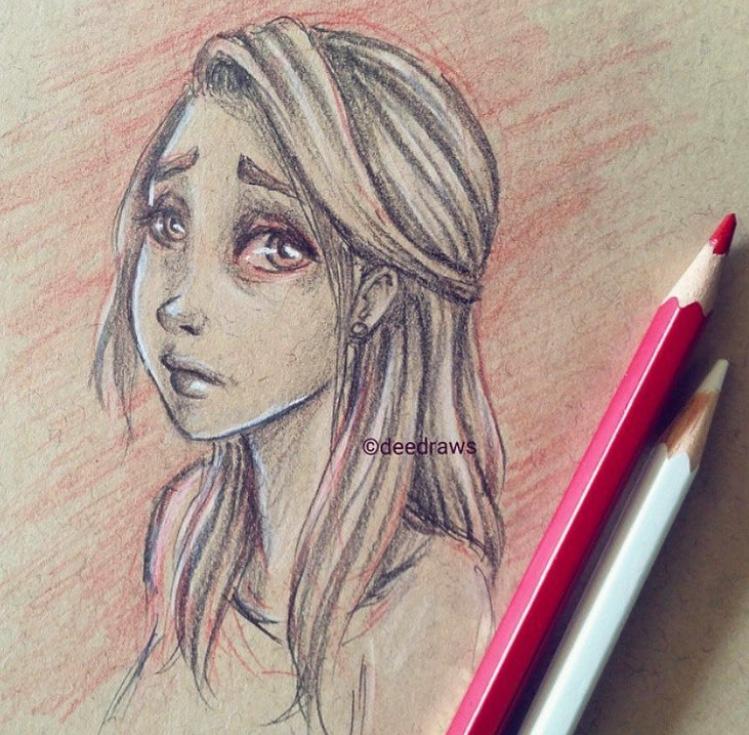 In short: often there is enough inspiration around you but you just do not know what to do with it in a creative way. In order to put your inspiration back into practice, you will have to be stimulated and recharged. I will share in the following ways that worked for me to recharge yourself creatively!
Take a break
When you realize that your creative energy is exhausted, it is wise to take a break. Making art takes a lot of energy and it is  very logical that the energy simply can be used up. Although it can be hard to take a break on the usual, it might be the best to rest and recharge. If you still want to be creative, there are plenty of other creative activities to do. These will be explained below under the heading 'Do something different'.
Save new reference material
You do not want to know how many hours I have spent in my life on apps like Pinterest. If I want to feel creative and but I'm too tired to work myself, I'll roam around for hours. Through "related photos" under pictures you quickly find the photo genre you are looking for.
I make folders for general inspiring photographs. But also bulletin boards for a particular artwork: to collect inspiration for beautiful color palettes, textures and styles that I would like to implement in my work..
Making these Pinterest boards can help getting you motivated and inspired to create again! . Have you found nice references? Then you definitely want to keep busy with the process of your future work!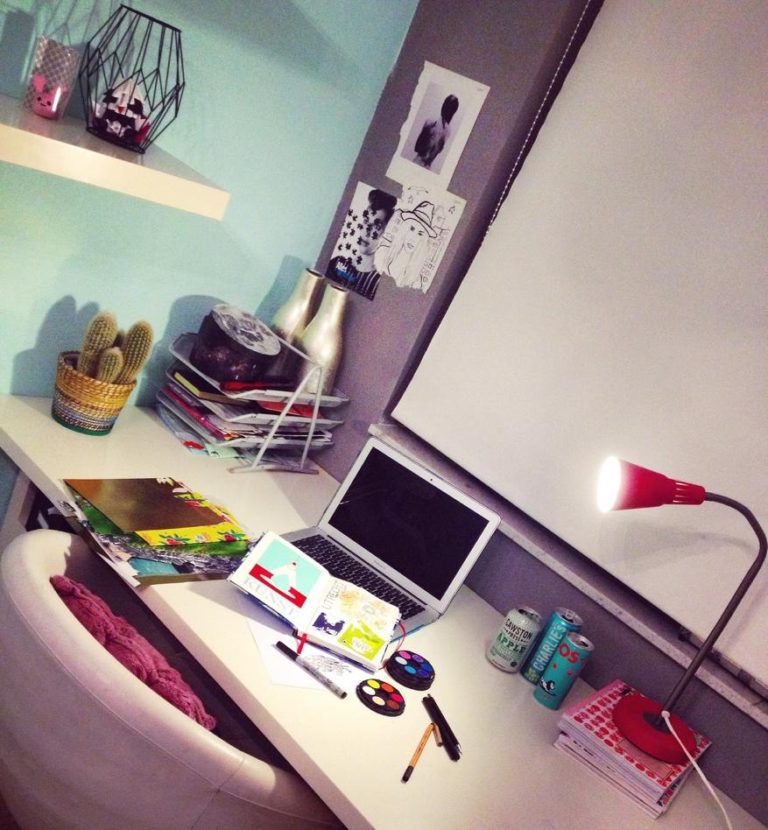 Viewing saved reference photos
During the time I have been working as an artist, I have collected inspiring material everywhere. I have folders throughout the house with torn posters from old magazines, fashion photos from magazines, advertising campaigns, business cards, postcards and old sketches. I have often thought of making art inspired by one of these photographs. This idea started 5 years ago but it never happened again.
It is often easier to start if the idea (which you have often already thought of) fits well with your style. For example, get started with photos from an old Cosmo Girl from 2012!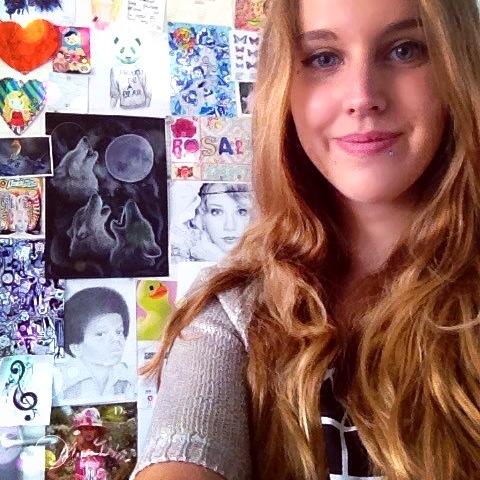 Go to unknown places
If your mind can not think of anything new from everything that is stored in it, you may have to add new impressions. Step out of comfort zone and start looking at something new! You can think of a nice trip or a great museum, but a new bicycle route to work can also help! Consider, for example, the statement: "When was the last time you did something for the first time?" This realization always helps me to refresh my head again. You will get out of your grind look more at your surroundings and start creating new impressions.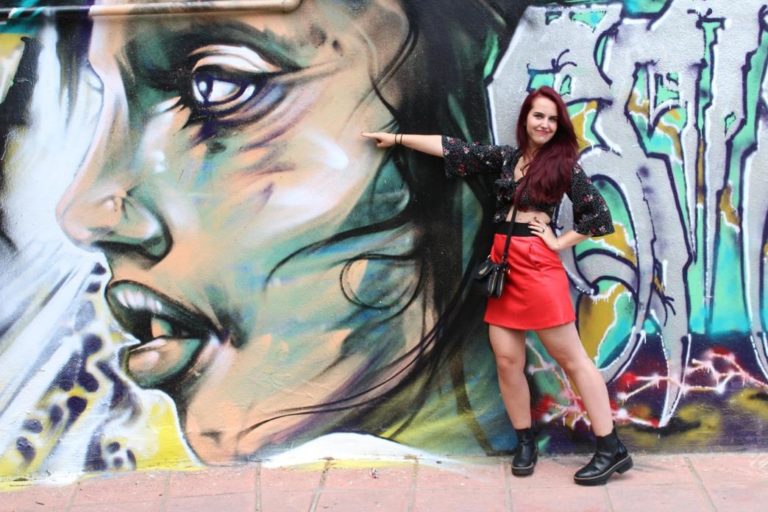 Do something different
If, for example, you have a great passion for drawing, but is it not working for now, there are plenty of other ways to get creative again. For example, go claying once. This can be something easily approachable, like claying with your little niece, but can also be with a goal in mind,like creating  'something beautiful for the house' or a fabulous piece of art for your workplace! It is always great to have something self-made hanging on the wall at your workplace! . Other fun creative activities to do are for example; looking up makeup or hair tutorials on YouTube and try new looks, get your clothes out of the closet and make new sets that you never think of in the morning, create a photo shoot with a group of friends, make your own clothes by sewing, drawing with textile pencils, ironing a cool design on an old shirt with transfer paper or give your room a metamorphosis!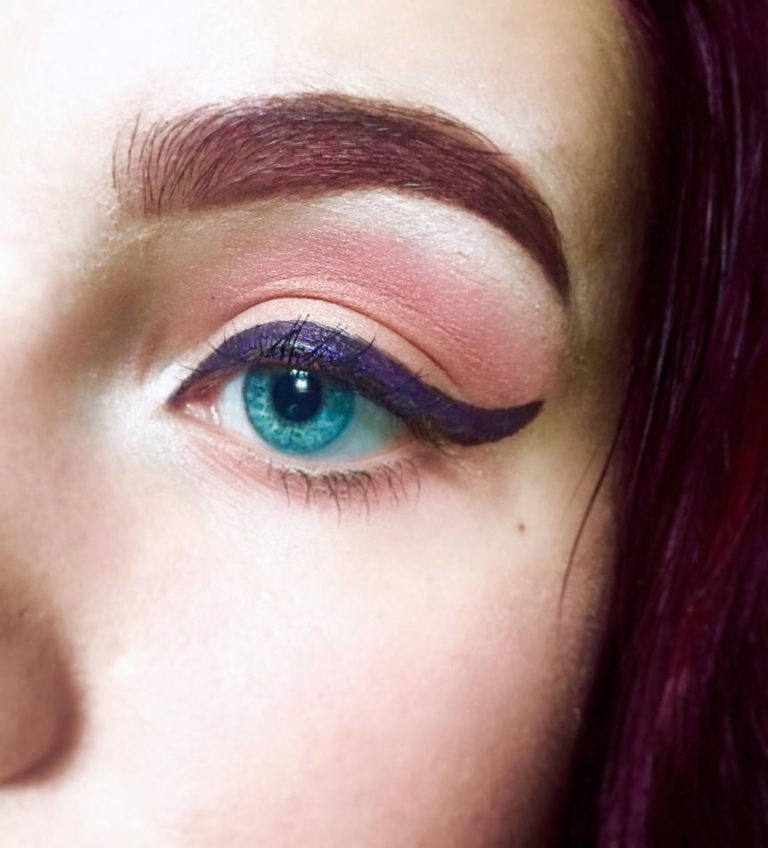 Join a workshop!
Deepen yourself in techniques that you want to improve on or choose something completely unexpected!
♣ Do you draw a lot realistically? Take part in an abstract painting workshop
♣ Do you always work with acrylic? Join an oil painting workshop
♣ Are you normally busy with photography of still lifes? Try to participate in a sketch course to learn more about compositions
Quickly make a work of art of smaller size
The nice and satisfied feeling after you have produced a new work is great. But what if you do not succeed in finishing a piece of artwork'? Get that satisfied feeling again by making nice pieces of art, lower the bar and try smaller size. Try to make 5 cool pictures of your life every day and eventually make a small album. This is also very nice as a reminder for later! You could also try decorating your boring school books. Another example: divide your paper into a few rectangles/pieces  of, for example, 5 by 5 cm and draw something small that you feel confident about! Then cut yourself a passe partout out of your favorite paper and voila, a small piece of art!
Join a challenge for yourself
Every year, a lot of challenges on Instagram go around among artists. Think for example of Inktober. A challenge of drawing something everyday during the month October, using ink. Personally, I never dare to participate. I already know in advance that I am going to have too little time and motivation to produce a post-able drawing every day for a whole month. But what if you adjust this for yourself? Try to produce something new every day (or every other day), but keep it easy, don't put too much pressure on yourself or set expectations too high.  Choose the best challenges and pick up different materials. For example, draw for 1 month only fish, but every day in a different style. Maybe you'll find out that your rough watercolor paintings are your thing.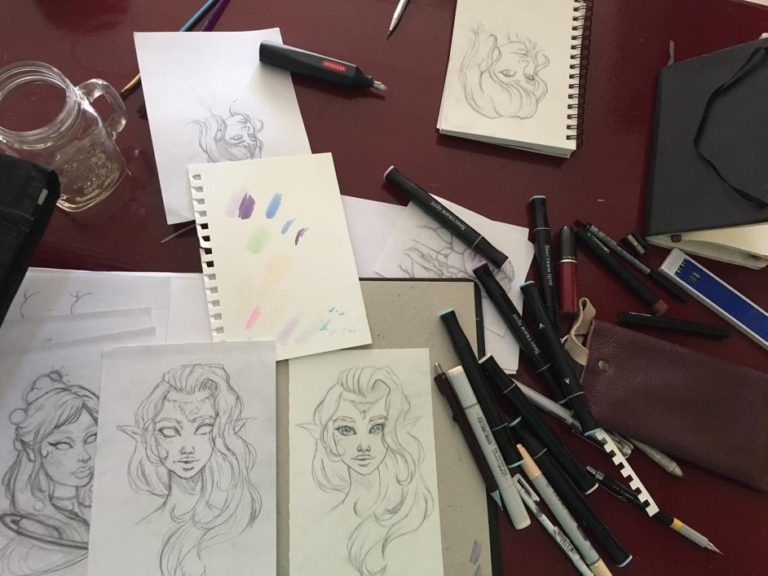 Make a great work with others
Together you are stronger! This starts at the beginning: find inspiration! As a creative group you can create something very beautiful and as you create something together this gives a huge motivation boost. I once started a work of art with my creative group of friends during a sleepover party!  Afterwards, we sent the work through back and forth for a long time until it was finished. I noticed that I became very enthusiastic about making my contribution and that I wanted to see how others complemented it. I still think this is one of the best projects! See below for the result:
Create a new version of a work that you are so proud of
Do you have 1 work that you are particularly proud of? Scan it to your computer and try to make some new versions. Work out one version digitally, use the other for a cool mixed media collage and finish another with neon colors. Try out as many possibilities as you can think of! Are you very happy with a particular version? Work out the details!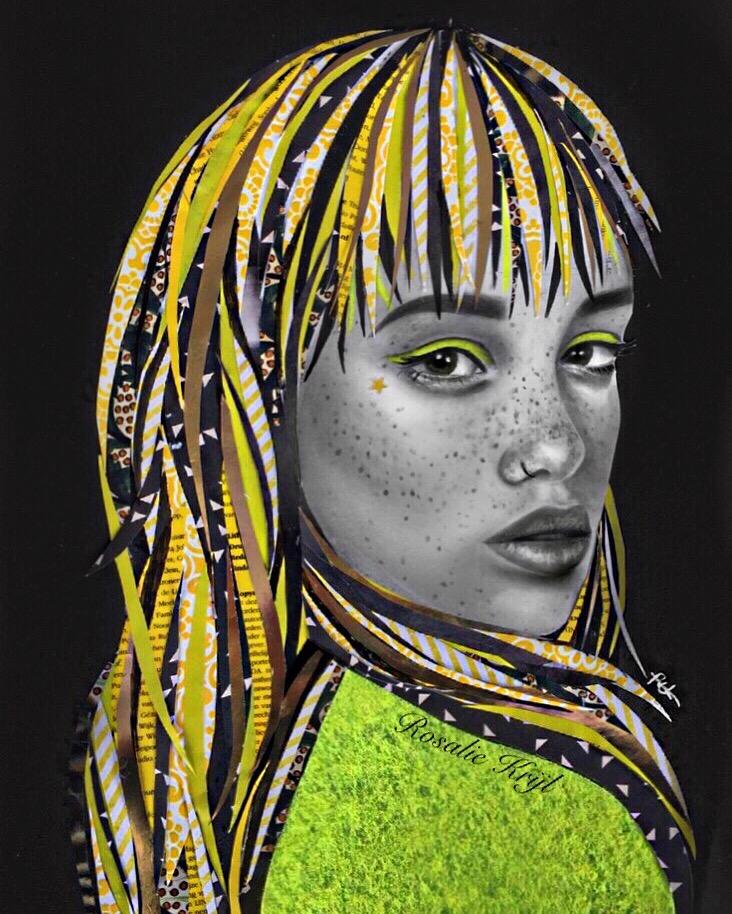 Ultimately, you are responsible for your own perseverance and growth. Take some rest now and then but do not try to find excuses consistently. Do not assume that everything you make must become a masterpiece. Make use of all tips and look for challenges. Also ask a lot for feedback to make the most of your art trip. Remember, for every valley there will be a peak.
Good luck,
Love Rosalie